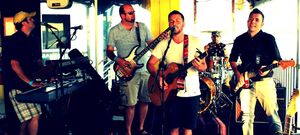 THURSDAY - July 21, 2016 
NVDB is excited to announce that we are once again taking our Jam Based - Rock/Pop stylings to the high seas, with special guest Eli Flynn of Upward Groove!  We'd love for you to join us on 7/21/16 for what's sure to be an incredible night on Rochester's hottest new floating concert series, "ROC The Belle" on Lake Ontario. 
This is seriously one of the most creative and unique music venues in town and boasts all sorts of incredible talent throughout the summer, which is precisely why we are so excited to be a part of it for the second year in a row!  Just $25.00 gets you 2 great bands, free pizza, liquor tastings from Black Button Distilling and of course, an awesome boat ride, so you'll want to get your tickets ASAP (they sell out quick).   In the meantime, here's some news footage of NVDB ROC'n the Belle for the 2015 "inaugural cruise".  See you aboard!